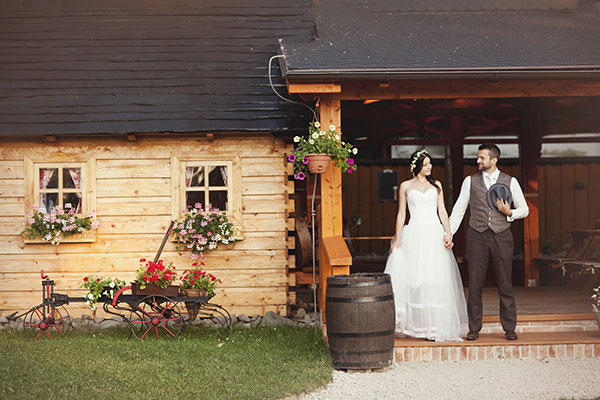 Hear what our customers have to say!
We are extremely grateful for all of the wonderful feedback we have received below. Please take a moment to share your own experience with us at one of these great review sites. We appreciate your time and look forward to hearing about your personal experience with us.
*Click on any review photo to see a larger picture.
"Thank you both SO much, we truly couldn't have done it without you. You made the day flow smoothly and helped make every detail come to reality! It was a magical weekend that I will never forget. Cannot thank you enough for everything!"
Marlee and Jack
Source: From Client
"We celebrated out daughter Krista's wedding on Saturday, August 13th, 2022. The day was perfect, Karen and Debby from She, She Weddings and Events helped make that happen. We talked several times via zoom, in person, and over the phone, anytime I had a concern they immediately answered. Karen also met us at the Niagara Falls Country Club the day before the wedding and spent several hours helping us arrange a special detail the bride wanted done for her guests. From the moment we got to the church Karen was getting everyone organized and taking car of every detail, she even had a emergency kit incase anyone needed something fixed or a problem arose. She also did an exceptional job keeping our daughter calm when her nerves were in overdrive and helped her with any need that she had. Both Karen and Debby were so professional and sincerely cared about making our daughters vision a reality and her wedding day perfect. When we first walked into the Country Club I was amazed at how beautiful everything looked and the transformation that took place. Thanks to Karen and Debby the evening was stress free, we enjoyed dancing and mingling with our guests. Finally, in the days after the wedding I have had numerous friends and family comment on how beautiful the wedding was and how impressed they were with Karen and Debby. I would highly recommend She, She Weddings and Events to anyone planning a wedding and event."
Krista and Gene
Source: From Client
"She, She Weddings and Events, the DREAM TEAM, Karen Nordaby and Debby Elizalde!!!!! We could not have asked for a more committed, talented team, with diverse skills and exceptional standards. Implementing the design, planning, and executing all the hundreds of details and elements involved for Lindsay and Scott's Wedding and Reception, no surprise came with extraordinary results; WOW, the perfect Wedding Celebration!!! A memorable time was had by all! Thank you Karen and Debby for: 1) Going above what other Event Planners would have done. 2) Helping us when we ran into problems. 3) Being so…flexible with the never ending changes. 4) The endless hours that you both put in."
Trish and Jim
Source: From Client
"Karen was so helpful and made our day feel like a fairy tale. Throughout the process Karen was there with checklists, ideas and timelines. Her ideas are brilliant and she thinks of every last detail so nothing is missed which made everything go together seamlessly the day of the wedding! We couldn't have asked for a better day or a better wedding planner! Thank you for everything you have done for us!"
Abby
Source: The Knot
"Karen and Debbie worked so hard to make our special day run smooth! They went above and beyond, to the point that Debbie even helped me with a last minute dress malfunction just minutes away from first look. Very sweet ladies and they genuinely care! They were also very helpful in setting up our dinner reception and making it look perfect. We were so happy, definitely recommend!"
Vanessa S
We are so grateful we worked with She She wedding planners! Karen & Debbie are absolute life savers. When we were in a bind losing our previous planner, they swooped in a month before our wedding ready to take on whatever was needed. Their attention to detail is noteworthy, we could tell right away, these ladies knew what they were doing! They did much more than tie up our loose ends. On the day of our wedding, they went above and beyond to make sure our special day went seamlessly! We cannot say enough good things about these two, they're simply the best. They took everything into their own hands and didn't make us worry about a thing. On top of being amazing at what they do they are also just pure joy to work with. They thought of everything as only the best professionals could do. If you want the best, go with She She, you will be so happy you did!
Love, Z & Lizzie!
Source: The Knot
"Karen and Debby, We cannot thank you enough for making our dreams come true for our wedding. It has been a joy and pleasure working with you and we hope to continue our friendship in the years to come!
With much love,
Dave and Hepsheba
"Karen and Debby, this is Beth L, mother of the groom. I just wanted to thank you for all you did to make David and Hepsheba's wedding the most beautiful I have ever seen. I could not believe it when I walked into the sanctuary. It was how I had always dreamed of having a wedding look, but never knew how to do it myself. Thank you! Thank you also for being patient with the delays, you handled it so well and very professionally. The reception room was also breathtaking. I wouldn't change anything!!! I thank God for directing David to you. We appreciate the long hours you put in and for exceeding our expectations. It was a pleasure to meet you both."
Beth L
Source: Text from Client
"She, She Weddings & Events made my wedding the most unstressful event I have ever been to. Karen took care of me from the very day that I hired her. I had a destination wedding in Niagara Falls, NY, and I wouldn't have been able to have my dream wedding without her. Karen took care of everything for me so that I could have everything I ever wanted for my wedding. Karen thought of every detail, and I am thankful for that because I would have completely forgotten about certain details. Days before the wedding, she was there for me even to get my marriage certificate. She is very hands-on to ensure everything goes smoothly. Karen took care of all the vendors for me, and all the vendors were of the highest quality. I would highly recommend She, She Weddings & Events to anyone that is getting married."
Harmony R
Source: Google
"Words cannot accurately describe how much Karen's work influenced the perfection of my wedding!"
Karlie H
Source: Wedding Wire
"I'm so thankful for She, She Weddings and Events! Without them, my wedding day wouldn't have been as successful as it was, I am sure of that. Leading up to the wedding, we had weekly meetings where we went over every possible detail, prior to each weekly meeting, they would send follow up emails with my "to do's" so I could make sure that I kept on track and had questions answered for them. They have a great set of vendors that they work with and they all helped to keep me on budget which was definitely an added bonus! Debby even helped my maid of honor to write her speech! Just the little details like making sure there was food and beverages in the bridal and groom suites was so appreciated. The ladies even gave my bridal party a survival kit which almost everyone in my wedding party ended up using that day, I mean, it had everything in it that anyone could possibly need. They even helped to babysit a few of the younger ones who were in the wedding but so over the wedding, which was so nice, keeping them busy so we could take pictures. Initially I was a bit hesitant to hire someone to help me but I am so glad I did, I was able to relax and truly enjoy my wedding day because I had complete trust in She, She. I would certainly recommend these ladies to anyone who needs help planning their wedding; their attention to detail, confidence and poise is top notch!"
Liz S
Source: The Knot
"Karen & Debby your envision and impeccable design exceeded my expectations! Our party was a huge success and for that I am grateful. It was a pleasure preparing this event with such experienced, confident and talented ladies. I look forward to planning our next event with you both. Thank you."
Amy K
Source: The Knot
"We had the pleasure of working with Karen for our March 2019 wedding. Karen was amazing in every sense of the word! She made us feel so comforted and we knew that we could trust her to take care of things so that we could enjoy our big day! She wrangled our other vendors with ease, they all told us how great she was to work with. Karen took the time to get to know us prior to and to make sure that we had everything we wanted; her hard work and attention to detail was spot on. We highly recommend Karen and her team. Sincerely D Elizalde"
Debby E
Source: The Knot